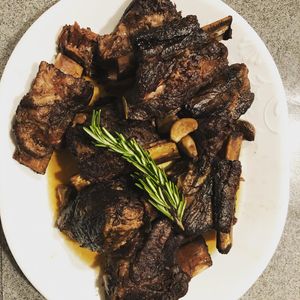 As we all deal with the stresses of the World, the Pandemic, and -- for those of us social folk and music lovers -- the lack of live music, I bring you my play-at-home short ribs recipe. This recipe was adapted from thestayathomechef.com. I made enough modifications that I wanted to share my own recipe. I hope you enjoy these as much as my family does on a cold Sunday winter night as you smell the savory spices and pluck out a guitar chord or two while it stews all day!
Ingredients: 
- 4lbs bone-in beef short ribs (boneless if you can't find) 
- kosher flaky salt and fresh cracked pepper
- Canola oil (about 1T) 
- 1.5 c beef broth 
- 1.5 c dry red wine (I use a decent quality cabernet) 
- 8 cloves garlic  
- 1 tsp onion powder 
- 1/4 c Worcestershire sauce 
- 1 sprig fresh Rosemary  
- 1 dried bay leaf 
- 1 sprig fresh thyme (optional)
Instructions:
Season the short ribs from an arm's height above the plate with a generous amount of kosher flaky salt and pepper to ensure an even spice layer. Heat a large cast iron skillet with a thin layer of canola oil over med-high to high heat. When you see the wisps of smoke above the pan, the oil is hot enough to sear. Sear the short ribs on each of the 4 sides for about 2 minutes per side. Intersperse 4 of the whole garlic cloves in the pan with ribs. 
Pour the beef broth, Worcestershire sauce, and onion powder into a slow cooker and stir together. Add the remaining 4 whole garlic cloves. Place the seared short ribs into the liquid in the slow cooker. 
Deglaze the still screaming hot skillet with the wine and allow a few minutes to simmer and burn the alcohol. Then pour entire contents of skillet (drippings, wine, and charred garlic) over the meat in the slow cooker.
Place rosemary sprig and bay leaf (and thyme sprig if you have) on top of meat and put the lid on. Cook on low for 7-9 hours, until meat is tender. I usually cook till the 8th hour and if the liquid is boiling too rapidly in the pot, I set to warm for the 9th hour.
You can strain the slow cooker liquid with a fine sieve over sauce pot and simmer with a tablespoon or so of cornstarch (and pad of butter if so inclined) to thicken for gravy. 
Serve over a generous pool of creamy mashed potatoes, grits, risotto, or polenta.
I hope you enjoy, and let me know how it turns out!