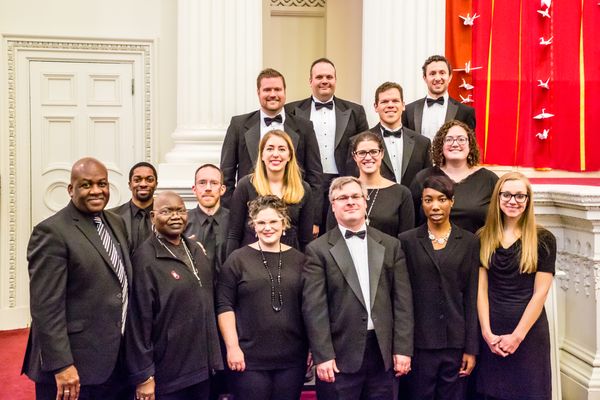 This weekend, I had the opportunity to sing a composition at Arch Street Presbyterian Church with Essence of Joy Alumni Singers for the incredible composer herself, Dr. Ysaye Barnwell. Her masterful compositions and inspiring work with
Sweet Honey in the Rock
have had a significant impact on my life. The first time I heard her piece,
Wanting Memories
, I was a freshman in college in Music Room 110 at Penn State. I couldn't make it through the song without crying: it was truly moving. Fifteen years later, I sang the song with Essence at my wedding. Beautiful compositions from a beautiful soul. I am including the biography from
Dr. Barwell's
site
 below in case you are interested in learning more about this amazing musician, educator, and activist: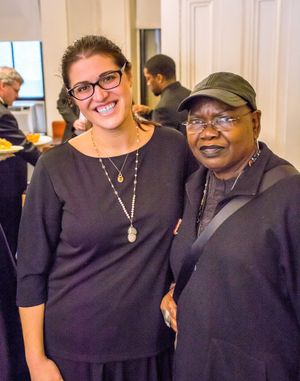 "Dr. Ysaye M. Barnwell, a native New Yorker now living in Washington, DC, is the only child and perfect blend of her mother, a registered nurse, and her father, a classical violinist.  Dr. Barnwell studied violin for 15 years beginning at age 2 ½, and majored in music through high school.  With this background,  she went on to earn the Bachelor and Master of Science degrees in Speech Pathology (SUNY, Geneseo, 1967, 1968), Doctor of Philosophy in Speech Pathology (University of Pittsburgh, 1975), and the Master of Science in Public Health (Howard University, 1981).  In 1998, Dr. Barnwell was awarded the Honorary Doctor of Humane Letters degree by her alma mater, SUNY Geneseo.  She recently received the Honorary Doctor of Humane Letters degree from the Meadville Lombard Theological Seminary in Chicago, IL (2009) and the Virginia Theological Seminary (2011);  and in 2012,  all members of Sweet Honey In the Rock, were awarded the Honorary Doctor of Letters Degree from Chicago Theological Seminary (2012). 
For over a decade, Dr. Barnwell was a professor at the College of Dentistry at Howard University, after which she conducted community based projects in computer technology and the arts, and administered health programs at Children's Hospital National Medical Center and at Gallaudet University in Washington, DC.  Dr. Barnwell joined Sweet Honey In The Rock® in 1979 and her training as a Sing Language Interpreter, led her to facilitated the group's tradition of including a Sign Language Interpreter in the ensemble.  After 34 years Barnwell retired from Sweet Honey In The Rock to pursue her other interests. 
Dr. Barnwell appears as a vocalist and/or instrumentalist on more than thirty recordings with Sweet Honey
In The Rock as well as other artists.  She has, for the past thirty years spent much of her time off stage working as a master teacher and choral clinician in African American cultural performance. Her workshop "Building a Vocal Community®: Singing in the African American Tradition" has during the past twenty-eight years,  been conducted  on three continents, making her work in the field a significant source of inspiration for both singers and non-singers, a model of pedagogy for educators, and cultural activists and historians.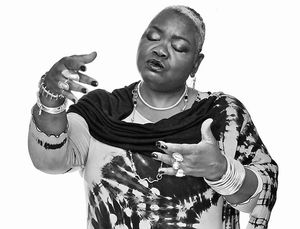 Dr. Barnwell has been a commissioned composer on numerous choral, film, video, dance and theatrical projects including Sesame Street, Dance Alloy of Pittsburgh, David Rousseve's Reality Dance Company, The New Spirituals Project, GALA Festival Choruses, MUSE: Cincinnati's Women's Chorus, The Steel Festival: Art of an Industry (Bethlehem, PA, The King's Singers in England  In 1996 she was awarded the Bessie Award for her score Safe House: Still Looking, commissioned by Liz Lerman Dance Exchange. The year 2001 saw the premiere of the work Suite Death, a setting of four poems by Langston Hughes for baritone, choir and orchestra, commissioned by the Plymouth Music Series in Minneapolis, MN. In Feb. 2003, the Choral Arts Society of Washington, DC premiered Truth Pressed to Earth Shall Rise, a choral work, in honor of Dr. Martin Luther King, Jr.  Most recently, she was commissioned by the Waterbury Symphony Orchestra and Mattatuck Museum in Waterbury, CT to compose a musical setting for Marilyn Nelson's epic poem Fortune's Bones: The Manumission Requiem. This cantata premiered in Waterbury on May 9, 2009 and there have been three performances since. In 2011 Barnwell curated the year long FORTUNE'S BONES PROJECT® for the Clarice Smith Performing Arts Center, University of Maryland which featured public discussions and two performances of the cantata.  Several other communities are now exploring how they might present the Project. 
Barnwell's music, published by Barnwell's Notes, Inc. and distributed by The Musical Source, Washington, DC has been performed and recorded by numerous choral ensembles and individual artists as well as Sweet Honey In The Rock.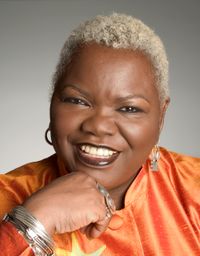 In addition to these endeavors, Dr. Barnwell is an actress whose credits include voice-over narration for film, video and radio productions including the NPR documentary: W.C. Handy's Blues, appearances in the film Beloved, directed by Jonathan Demme, and the TV show A Man Called Hawk.  She is producer of Sweet Honey's twenty-fifth anniversary recording, ...TWENTY-FIVE..., and Endings and Beginnings: Sweet Honey In The Rock Community Chorus.  Her workshop Building a Vocal Community® has been produced as a boxed instructional set: Singing in the African American Tradition. Volume Two of this set will be released in June 2009 marking the 25th year of  the workshop and outreach to ever expanding audiences. She is editor of, Continuum:The First Songbook of Sweet Honey In The Rock.  Her first children's book, No Mirrors In My Nana's House, illustrated by Synthia Saint James and published by Harcourt was released in 1998. A second children's book, We Are One illustrated by Brian Pinckney and published by Harcourt is anticipated in spring of 2008. In October 2000, Sounds True released UM HMM, a feast of personal and traditional African American stories, poems and songs for children produced by Windhorse Productions.  
Four axioms have proven significant in Barnwell's life. To whom much is given, much is required.  As one door closes, another door opens. Everything matters.  Say Yes!"